Hairpin Desks for the Whole Family
A tutorial by Jamie Emmanuelli, Maker.
×
Hairpin Shelf Brackets (Sold as Pair)
$23.95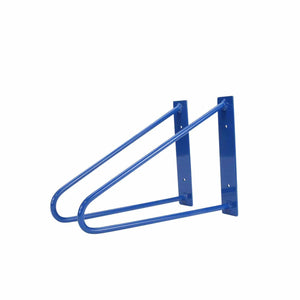 Get The Product
BASIC TOOLS:
| | |
| --- | --- |
| Tape measure | |
| Circular saw | |
| Drill/driver | |
| Level | |
Product
2 – Pairs of Hairpin Shelf & Desk Brackets, in desired sizes and finishes (we combined 23" in teal with 16" in turquoise)
Desk surface of your choice (we used plywood)
Pencil
Tape measure
Circular saw
Clamps
Wood glue, if double-layering your plywood
Orbital sander
Level
Screws and/or wall anchors, based on your shelf weight and wall material (i.e., drywall, concrete, masonry)
Drill/driver and bit
Safety gear such as eye protection, a mask/respirator, and gloves
Jamie Emmanuelli
Maker
Jamie Emmanuelli is the Creative Project Manager as Semi Exact. In her down time she spends it with her family and clay! "As a maker and creator, I love to get my hands on raw materials like metal, wood and clay. Semi Exact lets me indulge in these sorts of projects. Each project has its own soul and spirit. I can take a project wherever I want and it will still have a timeless quality. 
Another thing I love is the builds are great for almost any skill level. I can keep things simple while building with the family, or go all out on a more sophisticated build when I have more time to myself. Semi Exact will have the right pieces to make it all come together."
We wanted to show you how easy it is to create stylish and modern desks perfect for any space. Using plywood and two pairs of Hairpin Shelf & Desk Brackets, we created a perfect space for work or play!
Step 1:
Cut desk surfaces to size
Measure and cut the plywood to fit snugly within your brackets. We doubled up the plywood for our larger desk—be sure to double-check the thickness fits into your brackets beforehand! Clamp down the plywood to make sure you get the straightest cut.
Step 2:
Sand the plywood
Ok, we cheated a little bit. We bought laminated plywood so we'd have a nice smooth surface without any effort. If you're using standard furniture grade plywood, you will need to sand and coat the top. In our build, we simply sanded the sides, and rounded out the edges.
Step 3:
Hang the hairpin brackets
First, we found the studs in our wall. We recommend mounting your brackets directly to your studs, but you can also use appropriate wall anchors. Use a level to align your brackets, and drive screws through the bracket holes into your studs or anchors.
Step 4:
Slide in your desks!
Once your brackets are hung securely, simply slide in your deck surface. We measured for a perfect fit—success!
Step 5:
Rinse and repeat
Repeat for the smaller desk. Bonus, our Hairpin Shelf & Desk brackets can be used for work/play surfaces or shelving. Install more brackets on top of the desk for added storage.
Step 6:
Enjoy your work!
That's it, your desks are ready for use! These color powder-coated Hairpin Shelf & Desk Brackets add a bright, cheerful accent while maximizing our wall space. You can adjust the heights and lengths, and hang more brackets side by side to fit your needs.