Reclaimed Wood Table with A-Frame Legs
A tutorial by Mark Won, Maker | Semi Exact Team Member.
×
A-Frame Table & Bench Leg
$145.00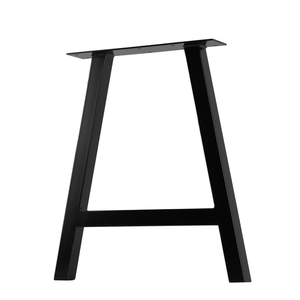 Get The Product
BASIC TOOLS:
| | |
| --- | --- |
| Tape measure | |
| Circular saw | |
| Drill/driver | |
| Clamps | |
Product
2 – A-Frame Table & Bench Legs, in desired height and finish (we used 28" x 20" in raw steel)
Reclaimed wood lumber
Tape measure
Pencil
Drill/driver and bits
Sandpaper, sanding block or orbital sander
Clamps
Wood glue
Screws (we used #8 x 1" to double-layer our tabletop, and #10 x 1-1/4" to attach our legs)
Teak oil
Rag
Safety gear such as eye protection, a mask/respirator and gloves
Mark Won
Maker | Semi Exact Team Member
My goal is to show how a beginner DIYer can easily create high-quality furniture. What I may lack in skill, I make up for with enthusiasm and a can-do attitude! 


I love using recycled/upcycled material to build beautiful furniture fit for any modern home. Officially, I'm a Semi Exact employee, but tinkering and DIY has been a hobby since childhood. Added dream job bonus: pursuing my love of interior design. 


I hope to learn from the many skilled makers out there, and to turn my builds up a notch!
Reclaimed wood paired with our A-Frame Legs is a winning combination. All you need is a few planks of weathered or salvaged wood, a few basic tools, and a pair of tube steel legs.
Step 1:
Size your reclaimed lumber
We wanted to create a multipurpose table that would fit in our sunroom. We used a circular saw to cut our reclaimed lumber to five-foot lengths, trimming both ends down for a consistent freshly cut look.
Step 2:
Prep the tabletop planks
After making our cuts, it was time to get our wood ready for assembly. These boards have been sitting outdoors for awhile, so we gave each plank a thorough brushing/cleaning.
Step 3:
Put together the tabletop
While the individual planks might have been strong enough for our needs, we decided to double-layer them for some extra heft and balanced proportions with our legs. We applied wood glue between the layers, and secured them with screws.
Step 4:
Wax your raw steel legs
Paste wax (included with your raw steel purchase) helps protect raw steel from rust. For humid environments or outdoor use, we recommend our rust-resistant powder-coat finishes. (Clear coat provides protection while celebrating the beauty of raw steel.)
Step 5:
Attach the legs
We used clamps to make sure our planks would stay secure as we attached our legs. Be sure to check the head size of your screw. The slot holes are large to accommodate heavy-duty builds, so make sure you choose a size that catches the edges of the slot holes!
Step 6:
Sand wood lightly
We didn't want to strip the weathered finish, so we took some 120-grit sandpaper and gave the table a light sanding. If you're looking for a smoother finish, we recommend progressing from 80- to 120- and 240-grit sandpaper with an orbital sander.
Step 7:
Protect the wood
For any exposed fresh wood, we applied two coats of teak oil. While we want to celebrate the beauty of the reclaimed lumber, we don't want any wood rot!
Step 8:
Utilize your new table!
We got pretty lucky in that the width of two planks also fit in the "shelf" of the A-Frame Legs, so we slid those puppies in there for even more utility. And if you have any leftover planks, you can make a smaller table/stool like we did.